chromID® CPS® Elite agar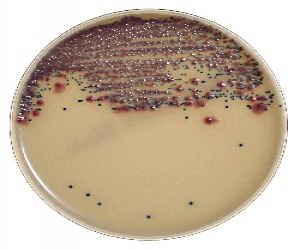 Manufacturer: bioMérieux (Industry)
Principle: chromogenic media
Automation: NO
Suitability: Small to high throughput veterinary microbiology laboratories
Capital equipment required: NO
Description:
The chromID® CPS® Elite agar is a non-selective media, consisting of a rich nutritive base combining different peptones and chromogenic substrates which enable the Isolation and direct or presumptive identification of bacteria from milk coming from bovine mastitis cases.
Key Points:
Direct Identification of Escherchia coli in 18-24 hours
Presumptive identification of KESC* group, Staphylococcus spp. and Streptococcus uberis. *KESC group: Klebsiella, Enterobacter, Serratia, Citrobacter
Time saving through the reduction in the number of confirmation tests thanks to the colouration of colonies.
Easy decision maker for "poly contaminated" samples
Compatibility guarantee and total offer for the following steps – complete identification and antibiotics susceptibility testing.
Company contact details:
bioMérieux (Industry)
view full details
Marcy L'Etoile
France
Website:
Visit Website
Tel: +[33] 4 78 87 20 00