CellStream and Reagent Kits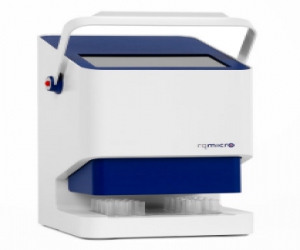 Manufacturer: rqmicro AG
Principle: Combination of immunomagnetic separation, microfluidics and flow cytometry
Automation: YES
Approvals: Internal validation by users
Suitability: Middle throughput water labs with the focus on fast, quantitative results
Capital equipment required: YES
Description:
The CellStream combined with the rqmicro reagent kits and microfluidic cartridges provides a complete solution for sample preparation. The instrument automatically purifies and isolates target cells, e.g.
Legionella
, by immunomagnetic separation and delivers ready-to-use samples for quantification with flow cytometry, plating on agar, or any other method of analysis of your choice.
Key Points:
 Application
Immunomagnetic separation and purification of target cells from water and food samples
Delivery of ready-to-use samples for flow cytometry, PCR, plating, fluorescence microscopy, etc.
Speed
Automated immunomagnetic separation in 35 min
Preparation of up to 4 samples in parallel
Fast integration in standard lab workflows
Easy handling
Automated and robust process
Low maintenance microfluidic cartridge system
Process control via touchscreen or smartphone app
Company contact details:
rqmicro AG
view full details
Switzerland
Website:
Visit Website
Tel: +41 44 512 51 51