Blood Collection Set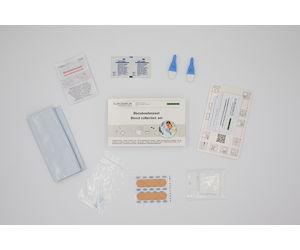 Principle: Collection of capillary blood (dried blood spot) samples
Automation: No
Approvals: CE-IVD
Suitability: Convenient sample collection for assessment of the antibody response after SARS-CoV-2 infection or vaccination.
Capital equipment required: NO
Description:
Set containing all materials required for collection of dried blood spot (DBS) samples and subsequent dispatch to a diagnostic laboratory for analysis of anti-SARS-CoV-2 IgG antibodies. The antibody detection is performed using EUROIMMUN ELISAs such as the Anti-SARS-CoV-2 QuantiVac ELISA (IgG), which provides quantitative measurement of IgG antibodies directed against S1/RBD.
Key Points:
For use in a home-use environment or by healthcare professionals
Smooth integration into existing processes and automation solutions
For determination of the antibody status and collection of epidemiological data
Available with EUROIMMUN branding or as blank box for individual branding
Please note : Any products described on this page are for Research Use Only and not intended for clinical diagnostic procedures unless otherwise stated.