Webinar: Overcoming your Rapid Microbial Method Validation Challenges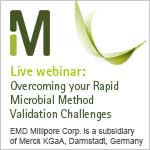 Merck Millipore, the Life Science subsidiary of Merck, Darmstadt, Germany, invites you to join a free, on-demand webinar on ways to overcome rapid microbial method (RMM) validation challenges.
Validation of rapid microbial method is necessary to ensure compliance with regulatory guidelines for controlling the diverse contamination issues that face the pharmaceutical industry. Recent updates to guidelines worldwide on validation of alternative microbiological methods – specifically USP Chapter 1223, PDA Technical Report No. 33 and Ph. Eur. chapter 5.1.6 – bring important new structure and requirements. During this webinar, Dr. Marcel Goverde, Managing Director of MGP Consulting specializing in pharmaceutical microbiology, discusses these changes, shares insights on alternative methods for rapid microbial method that can help streamline laboratory workflows and offers a customer case study for effective quantitative bioburden testing.
Merck Millipore is the Life Science subsidiary of Merck, Darmstadt, Germany. Merck Millipore and the M logo are registered trademarks of Merck, Darmstadt, Germany."
Tags:
Date Published: 20th November 2015