Wako Bacterial Endotoxin Reagents and Products at PDA Meeting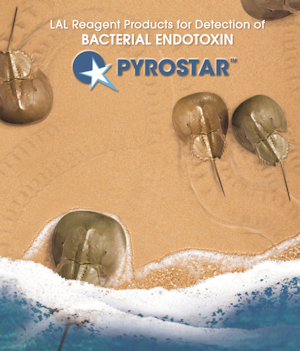 The PDA 10th Annual Global Conference on Pharmaceutical Microbiology will be held on October 19 – 20th in Bethesda, MD.  The meeting will address pressing challenges to product quality and infection control in today's global market. The comprehensive program agenda includes presentations from regulatory and industry experts from around the world who will share recent case studies and current trends in the field of pharmaceutical microbiology.
Exhibiting in booth #110, Wako Chemicals USA, Inc. will be showcasing their LAL reagent products for the detection of bacterial endotoxin, as well as, their associated endotoxin free disposable labware which include:
ES-F series and endotoxin test related accessories
PYROSTARâ"¢ ES-F - endotoxin specific; eliminates false positive results from glucans - same reagent uniquely suitable for either quantitative turbidimetric (KTA) or qualitative gel- clot test methodologies
Single-test vials – avoids 'hot wells'
Gel clot reaction tubes – certified endotoxin free; available with or without caps
Bioclean ® tip series – certified endotoxin free; individually wrapped
LAL reagent water – certified endotoxin free; packed in glass vials

| | |
| --- | --- |
| The Toxinometer® ET-6000 Measurement SystemA computer operated kinetic incubating tube reader together with Toximaster® QC7 testing software. | |
Wako looks forward to welcoming you to their booth and discussing solutions for your endotoxin testing requirements.
If you would like to receive more information on the Wako Chemicals USA line of Endotoxin-specific reagents for every user and for every method please email pyrostarinfo@wakousa.com
Tags:
Date Published: 2nd October 2015