30th April 2012 Content supplied by: Microbiology International
The New Systec MediaFill Automated Plate Pourer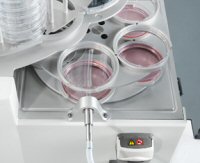 The Systec MediaFill plate pourer boasts new, innovative features making Petri dish filling more reliable than ever before. With the ability to pour 90 mm, 60 mm, and 35 mm Petri dishes (standard and deep dishes) MediaFill is ideal for a wide variety of applications.
The intuitive touch screen has a large display, complete with database of Petri dishes. Choose your brand and plate size to ensure precise operation.
The Drop-Stop function prevents drips at the filling nozzle by pumping back a programmable amount of media between each poured plate; this is especially useful for custom media that has low viscosity. High quality stepper motors and a frictionless glass ring ensure precise and quiet operation; the smooth aluminum surfaces are easy to clean. Shaft seals are on every axis to avoid getting any agar into the machine.
MediaFill uses a shaker function after pouring each dish for improved distribution of media and the optional Peltier cooling plate helps initiate the cooling process and cuts down on dish condensation.
An optional second pump is available for additives; both pumps are controlled via the touch screen for easy operation. A UV-Lamp with 2.3 W UVC light emission reduces the risk of contamination. Microbiology International also offers a HEPA filtered laminar flow hood custom built for MediaFill.
Users can automate their traceability by connecting the Jet3 inkjet printer to the MediaFill for printing on the sides of Petri dishes. The Jet3 printer is the only printer with the optional EcoSolv solvent recycling system. EcoSolv drastically reduces solvent consumption and eliminates harsh odors in the lab. Connect MediaFill to one of our MediaPrep automated agar sterilizers for a completely closed system. MediaPrep is available in sizes ranging from 10L to 120L.
Please note : Any products described on this page are for Research Use Only and not intended for clinical diagnostic procedures unless otherwise stated.
Tags:
Date Published: 30th April 2012
Source article link: View