11th May 2010 Content supplied by:
Take your PCR Lab Further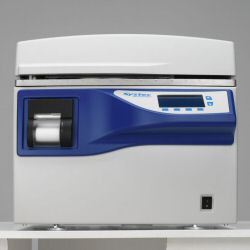 Microbiology International has set up a complete line of equipment that will make prepping your PCR samples for incubation fast and easy!
Automating your PCR workflow will decrease set up time, increase sample throughput and help eliminate the risk of secondary contamination.
Step 1: Prepare your media Easily prepare and sterilize liquid media with our complete line of Systec MediaPreps.
Step 2: Weigh and dilute your sample The Dilumat fully automates the dilution process by weighing the sample and accurately dispensing a volume of diluent based on the desired dilution. Connects directly to the MediaPrep for a completely closed system.
Step 3: Blend your sample The Pulsifier is the new alternative to paddle type stomachers. Pulsification has shown to be less destructive to the sample and will produce less interference during PCR.
Step 4: Incubate your sample Incubate for specified amount of time
Step 5: Perform PCR The R.A.P.I.D. LT FSS will reliably identify your test samples in less than an hour.
Step 6: Culture confirmation BD CHROMagar media and Microgen Biochemical ID kits can be used in conjunction with each other to confirm positive test samples using traditional methods.
For more information on the Microbiology International range of equipment for improving your PCR workflow visit www.800ezmicro.com
Please note : Any products described on this page are for Research Use Only and not intended for clinical diagnostic procedures unless otherwise stated.
Tags:
Date Published: 11th May 2010