15th April 2013 Content supplied by:
Support Horseshoe Crab Conservation and Get the Latest in QC Testing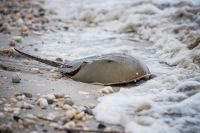 For endotoxin detection, Lonza offers Limulus Amebocyte Lysate (LAL), a reagent derived from blood cells of the horseshoe crab. Lonza is committed to help protect future generations of the horseshoe crab and invites Professionals to subscribe to their quarterly, free Quality Control (QC) Testing Solutions e-Newsletter. For each subscription, Lonza donates $1.00 to the Ecological Research & Development group (ERDG), a non-profit wildlife conservation organization whose primary focus is the conservation of the world's four remaining horseshoe crab species. To learn more about Lonza's commitment to sustainability, visit www.lonza.com/hsc.
Subscribers highly benefit from Lonza's QC Testing Solutions e-Newsletter. It provides the latest information about endotoxin products, services and industry-leading software, as well as rapid mycoplasma detection products and services. The featured content includes technical tips, white papers, webinars and exclusive news items. For QC Testing e-News and to facilitate a donation to ERDG, those interested may sign up at www.lonza.com/enews.
Lonza's endotoxin detection products are used to perform the LAL test, an Endotoxin Detection, QC test on raw, in-process and final release materials. The LAL test helps ensure that human and animal intravenous drugs, vaccines and medical devices are safe for use. Lonza has been providing endotoxin detection products and services since the 1970s, adapting its offerings and services to the needs of customers and to changing technologies. In 2003, Lonza brought to market PyroGene™, an endotoxin detection method that does not rely on the use of horseshoe crab blood as the raw material. In 2009, the FDA approved 510(K) applications that included the PyroGene™ recombinant Factor C Assay as the final release test.
Tags:
Date Published: 15th April 2013
Related news