26th June 2020 Content supplied by: Vectornate/Medschenker
Specimen Collection Swabs and Transport Media for Viruses Including COVID-19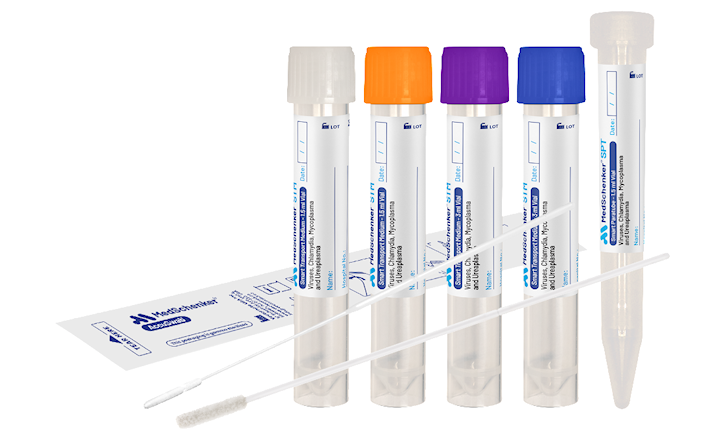 Vectornate USA, Inc. now offers nasopharyngeal and oropharyngeal flocked swabs and transport media for specimen collection, transport and maintenance of respiratory viruses including SARS-CoV-2.
The CavSwab™ range includes a choice of either nasopharyngeal or oropharyngeal swabs for sample collection and vials of MedSchenker™ Smart Transport Medium (STM) for the transport, maintenance and long term freeze storage of viruses (including SARS-CoV-2), chlamydia, mycoplasma and ureaplasma.
The MedSchenker STM is a proprietary version of Universal Transport Medium (UTM) and consists of a modified Hank's balanced salt solution supplemented with bovine serum albumin, cysteine, gelatin, sucrose, and glutamic acid. The pH is buffered with HEPES buffer. Phenol red is used to indicate pH. Vancomycin, amphotericin B, and colistin are incorporated in the medium to inhibit the growth of competing bacteria and yeast. The medium is isotonic and non-toxic to mammalian host cells. The presence of sucrose acts as a cryoprotectant which aids in the preservation of viruses and chlamydiae if specimens are frozen (-70ºC) for prolonged storage.
Features and Benefits of MedSchenker Swabs and UTM include:
WIth CavSwab flocked swabs, patient sample materials and particles are rapidly released and dispersed
Molded breakpoints on swab shaft are both safe and reliable
Smart Transport Medium is supplied in labelled screw-cap free-standing shatterproof tubes, stable at room temperature
MedSchenker™ STM and Cavswab™ are cleared by FDA under class I
Both CavSwabs and STM are widely used with Korean COVID-19 test kits
Available to ship globally from South Korea
Choose from:
CavSwab™ Nasopharyngeal Swabs - sterile, flocked nylon fiber swabs – 1000 units per box
CavSwab™ Oropharyngeal - sterile, flocked nylon fiber swabs – 1000 units per box
Smart Transport Medium - available in 1.5ml, 2ml and 3ml volumes, 50 units per package
Tags:
Date Published: 26th June 2020