5th November 2018 Content supplied by: Alpha Laboratories Ltd
Reduce Your Costs for Biological Sample Transport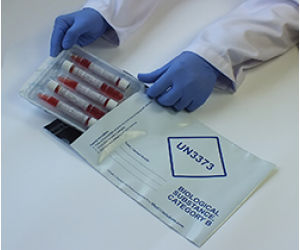 How do you package your send-away pathology samples? Are you spending too much time and money on packaging your samples correctly? If you are currently wrapping tubes and using boxes to transport samples by courier or Royal Mail, this could be costing you a lot more and taking much longer than necessary.
The Transport of Dangerous Goods Regulations require patient specimens and other biological samples to be transported according to UN3373 Biological Substance Category B, P650 Packaging Instruction. However, compliant packaging requires multiple elements that can result in a bulky package which is expensive to transport.
One pathology laboratory, sending away 1000 samples per month, has recently switched to the SpeciSafe®complete secondary sample packaging system which will save them over £21,000 per year. SpeciSafe® fulfils multiple requirements of the packaging regulations. The compact, clam-shell design holds primary 95kPa containers in rigid, cushioned, pre-moulded compartments, so they are protected and multiple vials are separated from each other. The bonded ultra-absorbent lining will soak up the entire liquid volume in the event of a primary container breach. The SpeciSafe is leak-proof when closed and its rigidity means only a flexible outer envelope is required for road transport. SpeciSafe also delivers further benefits. It is very quick and easy to use and the transparent front means any leakages from the primary container are easily visible. Patient information is easily seen and can be read by barcode readers without unpacking. Samples can be posted by Royal Mail at large letter rates which could save over £2 per package, provided the primary container is less than 25mm in diameter and the sample volume does not exceed 50ml.
Please note : Any products described on this page are for Research Use Only and not intended for clinical diagnostic procedures unless otherwise stated.
Tags:
Date Published: 5th November 2018
Source article link: View