Rapid Sterility Testing: Get Reliable Results in 5 days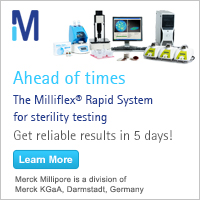 Traditional sterility tests require an incubation time of at least 14 days to deliver final results. By changing the testing approach from liquid media incubation to solid nutrient media, and detection from visual inspection to an automated bioluminescence assay, Merck Millipore's Milliflex® Rapid System substantially reduces time to result to only 5 days.
Sterility testing with the Milliflex® Rapid System not only allows faster release of sterile products to the market but also enables earlier implementation of corrective actions, thus avoiding the loss of time and money.
Merck Millipore Millflex® Rapid System:
Growth based results to detect viable cells and ensure continuity in the interpretation of the test
Technology compatible with any identification methodology
Robust and easy to use, it provides consistent and reliable results
Fully automated data interpretation, independent from the operator
Compliant with 21 CFR Part 11
Tags:
Date Published: 14th July 2014
Source article link: Merck Millipore