22nd April 2016 Content supplied by: Pall Corporation
Pall Introduces Rapid and Flexible Solution for Beverage Spoilage Yeasts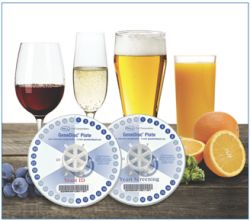 Pall expands its GeneDisc® product range for process monitoring with the introduction of a new solution for spoilage yeasts. This flexible solution is designed to answer the specific needs of the beverage industries to detect and identify spoilage yeast in a timely fashion.
Customized informative method - This new solution offers two testing options, with different levels of information, to fit all types of sample and testing strategies. The first one is a yeast screening test. The second one is a yeast identification test for the 12 major beverage spoilage yeast species and genera, including Saccharomyces cerevisiae var. diastaticus and Brettanomyces bruxellensis.
Accelerated decision-making - For yeast slurry testing and colony identification, results are available in only 2 hours. To determine the presence of down to one microorganism in the sample, the test is performed in as fast as 30 hours. "Spoilage risk is greatly reduced as users obtain results faster and earlier in their process. As an example, with only 2 hours from sample to result, breweries can prevent pitching contaminated yeast" says Sirine Assaf, Director of Pall GeneDisc Technologies. "In addition, beverage producers including breweries, wineries and wine bottlers can now consider next day batch release controls. Main benefits include total peace of mind, avoiding costly recalls and reducing storage costs".
Fast corrective actions - This informative and rapid solution accelerates root cause analysis when contamination is detected, consequently reducing its financial impact.
This easy-to-use solution can be implemented at beverage producers from small to large across different industries and complements the existing GeneDisc solutions for the detection of beer and TAB spoilage organisms.
Tags:
Date Published: 22nd April 2016
Source article link: View
Related news