6th September 2017 Content supplied by: Alpha Laboratories Ltd
Protect Your Samples from Acidification When Shipped On Dry Ice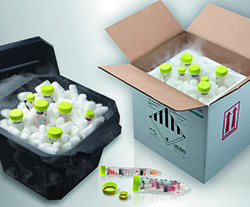 The new ProtectR® tubes, now available from Alpha Laboratories, have the only container closure system engineered to be CO2 resistant. This prevents costly damage to molecular and cellular solutions when shipping or storing samples on dry ice. Standard centrifuge tubes do not provide a reliable barrier against CO2 and even during short term dry ice storage can result in acidification of samples, with a decrease in pH by as much as 2.5 pH units. This acidification can affect the integrity and reproducibility of samples, and may result in a loss of protein activity.
Made of durable, high quality materials and fitted with an air-tight cap, ProtectR Tubes form a protective barrier, impermeable to CO2, keeping the sample pH stable and preventing acidification. Available in 15ml and 50ml sizes, sterile or non-sterile, they provide the ideal shipping tube for both small and large volume samples. In addition to primary sample containment they can be used as a secondary shipping tube for multiple small volume tubes.
ProtectR tubes are IATA 95kPa certified for packaging and air transport of biological samples and meet the UN1845 requirements for shipment on dry ice.
Please visit www.alphalabs.co.uk/protectr for further information or contact Alpha Laboratories on 0800 38 77 32 or email marketing@alphalabs.co.uk.
Please note : Any products described on this page are for Research Use Only and not intended for clinical diagnostic procedures unless otherwise stated.
Date Published: 6th September 2017
Source article link: View