3rd June 2011 Content supplied by: Pro-Lab Diagnostics
Prolisa™ EHEC EIA Kit Detects Shiga Toxins from Faecal Samples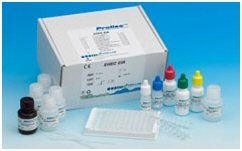 In response to recent developments, Pro-Lab Diagnostics have announced a high-quality tool in the fight to diagnose life-threatening disease. Prolisa™ EHEC EIA is available for the most rapid and accurate confirmation of Toxic infection due to Enterohaemorrhagic E.coli.
The Prolisa™ EHEC EIA is a microplate assay for the qualitative detection of Shiga Toxins I (ST-I) and II (ST-II) in faecal samples, and from either selective broth or agar enrichment cultures of faecal samples. The Prolisa™ EHEC EIA is intended for use as an aid in the diagnosis of Enterohaemorrhagic Escherichia coli (EHEC) infections.
EHEC are comprised of a group of organisms that produce Shiga toxins and are associ­ated with the severe human diseases; haemorrhagic colitis and the hemolytic uraemic syndrome. Escherichia coli O157:H7 is the prototypical EHEC; however, numerous other organisms from serogroups such as O26, O111, and O145 are also reported to produce STs and to cause disease in humans.
EHEC can be acquired from food, water, person-to-person contact or human-to-animal contact. The organisms are typically resistant to the acidic environment of the stom­ach and traverse the gastrointestinal tract to the colon where they attach to epithelial cells and produce potent cytotoxins called STs. The toxins are absorbed by the systemic vasculature and are distributed to endothelial cells containing toxin receptors in sensitive tissues, primarily the kidney, colon and central nervous system. The toxins act locally to damage tissue by causing microvascular occlusions to form.
EHEC infections commonly affect the young and the elderly and are typically diag­nosed by a combination of clinical and microbiological findings. Clinical findings may include bloody diarrhoea and kidney failure associated with haemolytic anemia. Microbiological findings include isolation of ST-producing E. coli from stools, or detec­tion of STs directly in stools or in enrichment cultures of stools (either on selective agar or in broth culture). Toxins can be detected in stools using immunoassays. Polymerase chain reaction using toxin-specific primers may also be used to detect toxins indirectly.
Diagnosis of EHEC infections improves patient care, reduces person-to-person trans­mission and prevents spread of food-borne outbreaks of disease by facilitating early reporting and trace back activities.
The Prolisa™ EHEC EIA test is performed by adding diluted samples to microplate wells on which rabbit polyclonal anti-ST-I & ST-II are bound. The wells are incubated at room temperature. A wash is performed to remove unbound material. Monoclonal antibodies specifically recognizing ST-I and ST-II are added to the wells. After wash­ing, enzyme-conjugated rabbit anti-mouse IgG polyclonal antibody is added and incubated at room temperature. A reactive antibody-enzyme complex is formed if toxin is present. After washing to remove unbound conjugate, substrate is added and incubated for 10 minutes at room temperature. Colour develops in the presence of bound enzyme. Stop solution is added and the results are interpreted spectrophoto­metrically.
Further references and technical details are available on request from Pro-Lab Diagnostics, demonstrations can also be arranged where required. Contact Pro-Lab using the contact details at the top of this page.
Date Published: 3rd June 2011
Source article link: View
Related news