13th August 2012 Content supplied by: Pall Corporation
Pall's Lab Catalog Now Offered in Digital Format and as Downloadable App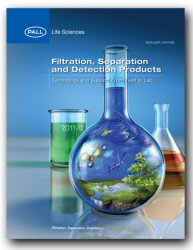 Pall's 2011-2012 Laboratory Filtration, Separation and Detection Products Catalog is now available in an easy-to-use, interactive digital format. Pall's catalog provides a convenient, all-in-one guide to the company's line of laboratory-scale products. A downloadable app (Pall Lab Catalog) for iPhone®, iPad® and iPod® is also available from the App StoreSM.
Critical laboratory applications showcased in the catalog include protein and DNA purification, detection and screening, laboratory bioprocessing, HPLC and chromatography sample prep, microbiology quality control, and environmental water and air sampling. Detailed application and product selector guides, performance data, and ordering information make this digital catalog an important tool for every lab.
An easy-to-use search feature coupled with catalog links to Pall's web site offer users a seamless digital interface. The ability to digitally share catalog pages with a friend, create a PDF of the entire catalog or just a section, or download a desktop version keeps the catalog handy for use on mobile devices at all times.
Product selection is easy with Pall's new digital catalog. Innovative new additions and long-time favorites come together to support a wide range of applications and volume requirements. Highlights include scalable chromatography, tangential flow filtration, and sterile filtration products; sample prep products for pharmaceutical QC; and an expanded line of filter plates and centrifugal devices for molecular biology and protein research. To get your digital copy, visit http://catalog.pall.com/lab.
Pall offers the widest selection of membranes with the broadest range of performance characteristics available anywhere. The Company's technical support team is available to help customers worldwide realize the full potential of their applications. For more information about Pall laboratory products, contact Pall's Technical Service Department: 600 South Wagner Road, Ann Arbor, Michigan, 48103, or call 800.521.1520 (USA and Canada) or (+)800.PALL.LIFE (outside USA and Canada). Visit Pall Life Sciences on the Internet at www.pall.com/lab or e-mail us at LabSupport@pall.com.
Tags:
Date Published: 13th August 2012