8th May 2018 Content supplied by: Alpha Laboratories Ltd
New PeeCanter Flat Packed Urine Sample Collection Cup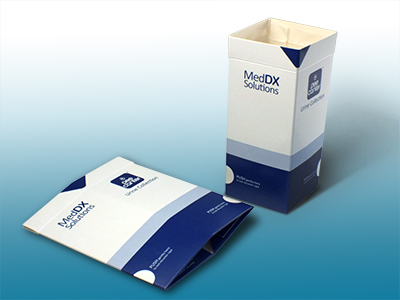 The new PeeCanter, from Alpha Laboratories, is a discreet and handy pop-up urine collection cup that is perfect for use in diagnostic and home testing kits.
The compact design is supplied flat-packed, which reduces postal costs and storage space.
The PeeCanter is simple and quick to assemble, simply press with finger and thumb in the marked areas and the 3D cup locks into position. The wide aperture makes it easier to collect the sample, reducing spillages, and the square design of the cup provides a natural and accurate pouring spout for decanting into the final urine storage or transport container.
The design eliminates the risk of crushing or cracking during the delivery and collection process, thus increasing the potential for return of a usable sample. The PeeCanter collection device is manufactured from card lined with a waterproof plastic sleeve. The collection cup measures 50 x 50 x 120mm (w x d x h) in its fully opened 3D shape, and the maximum fill capacity is 200ml.
The PeeCanter (412P) is ideal for Point of Care Diagnostic Kits, Clinical trials, Sample Collection Kits, or anywhere there is a need to collect a urine sample.
Please visit www.alphalabs.co.uk/peecanter for further information or contact Alpha Laboratories on +44 (0)800 38 77 32 or email marketing@alphalabs.co.uk.
Please note : Any products described on this page are for Research Use Only and not intended for clinical diagnostic procedures unless otherwise stated.
Tags:
Date Published: 8th May 2018
Source article link: View