Neogen Europe Offers NeoFilm® for Rapid Microbial Testing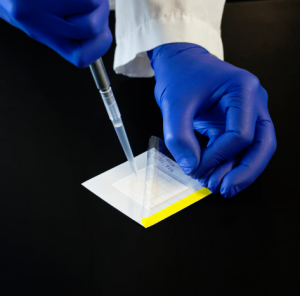 Neogen's NeoFilm® microbial tests are simple to prepare and interpret with a broad range of applications. The tests feature a streamlined workflow with easy colony enumeration. NeoFilm tests are available for coliform, E. coli/coliform, aerobic counts, plus yeast and mould. Each test has been validated through the AOAC Research Institute.
"NeoFilm has been designed with the user in mind, and offers advantages such as greater visual clarity and easy enumeration," said Neogen Europe's Sales & Marketing Director Dr. Steve Chambers. "Each test film is colour-coded for easy identification and the required incubation time is printed on the test to simplify the whole procedure. The advanced design of NeoFilm simplifies workflow by allowing test films to be stacked as they are inoculated. This frees up valuable bench space and eliminates any wait time between inoculation and incubation. Unlike other tests, NeoFilm doesn't require a 'spreader' and there is no gelling or set-up time, making them much easier to handle. The biggest advantage is the clarity of the results that NeoFilm provides."
NeoFilm tests detect and quantify microbiological organisms in environmental samples, process materials and finished products. The protocol is straightforward with minimal training required for microbiology teams. Diluted samples are inoculated onto thin films, incubated, and then any colonies are counted giving an accurate result with minimal work.
In its recent AOAC validation, the performance of NeoFilm for Yeast and Mould was compared to the Food and Drug Administration's (FDA's) Bacteriological Analytical Manual (BAM) reference culture procedure for its ability to detect yeasts and moulds in breaded chicken nuggets, dry pet food, orange juice concentrate, yogurt and cake mix. Results of the internal and independent laboratory studies demonstrate the NeoFilm method is an effective test for the enumeration of yeasts and moulds in the food matrices tested.
Tags:
Date Published: 7th April 2015
Source article link: Neogen Europe Limited
Related news