MOCON® Extends GreenLight® Performance Specifications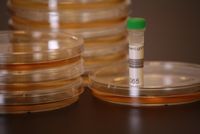 MOCON has announced two new developments for its game-changing rapid TVC enumeration system, GreenLight.
Firstly, the company has confirmed the sensitivity of the GreenLight measurement. This oxygen depletion sensor can detect even the presence of a single bacterium given a suitable and effective sampling strategy.
Actual results may vary based on the sample matrix. Experimental results show limit of detection below 10 CFU per vial. GreenLight sensors are delivered in 2.0 and 15.0mL APCheck™ vials. The observed sensitivity of GreenLight is far superior to plating techniques. The system has been successfully deployed in applications for aseptic packing and filling and for environmental swabbing, among others. GreenLight software allows fully automated testing for presence/absence and very low APC/TVC values while maintaining a dynamic range up to 108 Colony Forming Units per milliliter.
Secondly, the core APCheck consumable vial is now approved for a shelf life of 12 months in temperature conditions between 2 and 25C. Vials are still best kept out of direct UV light. This removes the need for a specific refrigeration requirement for the vials. GreenLight is ideal for use when lab storage is at a premium, and ambient conditions cannot be maintained with air conditioning. Similarly, industrial plants can use GreenLight outside typical microbiology lab conditions.
For more information on the GreenLight system, go to www.microbialdetection.com
Tags:
Date Published: 17th December 2012