4th August 2020 Content supplied by: rapidmicrobiology.com
Latest Updates on COVID-19 Testing - Kits, Products, Services, Instrumentation - 4 Aug 2020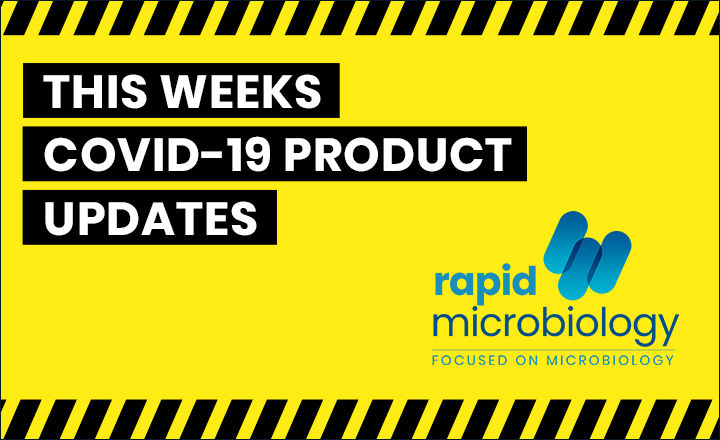 In this weeks COVID19 updates;
Microbiologics has expanded its custom virology solutions to include Biosafety Level 3 (BSL-3) antiviral services and launched a menu of cell-based services for SARS-CoV-2 to assist assay developers, evaluate therapeutic solutions and vaccines, and provide inactivated intact virus to researchers and diagnostic companies.
XPRIZE Rapid COVID Testing competition calls on the world's brightest, most innovative minds to develop new, low-cost testing solutions that range from testing devices with 15-minute results to distributed lab testing methods with "next morning" results.
Passengers arriving into Paris Charles de Gaulle Airport are screened by thermal imaging cameras and those with a fever are given a rapid PCR test.
Two clinical trials find 100% diagnostic accuracy for Bruker's FluoroType® SARS-CoV-2 multiplex qPCR assay
A public health laboratory near New Dehli, India, has released data on its 'hotspot' COVID-19 testing regime which uses SD Biosensor's Standard Q COVID-19 Ag Kit to test 1200 samples per day.
We learn about COVID-SeroIndex test kit, an ELISA assay, designed to measure the presence or absence of anti-COVID-19 antibodies in addition to measuring the titer (level) of antibodies a person has produced.
And we hear how a Fortune 100 global consumer packaged goods company has introduced LabVantage COVID-19 LIMS solution to ensure employee health and safety in the workplace.
Click here to explore our COVID-19 Test Method Guide with details of test kits, standards, and controls
Tags:
Date Published: 4th August 2020