15th July 2013 Content supplied by:
InstantLabs Receives AOAC Certification for L. monocytogenes Test Kit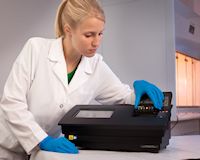 InstantLabs Medical Diagnostics Corporation (InstantLabs®), developer of the portable Hunter Accelerated Real-Time PCR® system, have announced that its Listeria monocytogenes (L. mono) Food Safety Kit has received AOAC Performance Tested MethodsSM certification (PTM #051302) for environmental and food matrices. The company also announced the release of new software with enhanced features which further simplify and streamline the food safety testing and reporting process.
The Hunter system is a real-time polymerase chain reaction (RT-PCR) platform that provides rapid, affordable, and accurate detection of pathogens. InstantLabs' L. mono Food Safety Kit has been certified for the identification of L. mono in foods and environmental surfaces that are common carriers of the potentially lethal foodborne pathogen. The award follows independent laboratory studies conducted by Food Safety Net Services (FSNS). The AOAC Performance TestedSM certification mark is widely recognized by the food industry and government agencies and is awarded to products that have passed unbiased and rigorous evaluation.
InstantLabs' Hunter system is easily integrated into food production facilities' HACCP programs. The compact, affordable and easy-to-use system is available worldwide, and comes "ready to use". The latest software release provides immediate notification of results with the ability to automatically email test reports at the completion of the run, allowing for more rapid release of product to the market.
"We are amazed at how easy it is to set up and integrate the Hunter System into food manufacturing processes," said Cesur Ergun, of the Tetra Group. "The system's minimal steps and user friendly color coding for tracking results allows processors to rapidly and confidently conduct food safety testing without errors."
"We are excited to receive this AOAC certification, and look forward to developing more test kits to address the needs of the food industry," said Steven Guterman, Chief Executive Officer of InstantLabs. "Our ongoing commitment to our customers led to the development of the latest version of the Hunter's integrated software. Users can now have test results emailed directly to key personnel following completion of testing. The Hunter is continuously being refined to be a product that is both cutting edge and practical for this dynamic market."
InstantLabs' Hunter system and Food Safety Test Kits are available to the food industry and import/export organizations worldwide, for whom the ability to deliver the highest quality food products in the shortest possible window of time is crucial to public health and overall success of the organization. In addition to its Listeria species and monocytogenes Food Safety Test Kits, InstantLabs has test kits available for Salmonella species, E. coli 0157:H7 as well as tests to screen for Shiga-toxin producing E. coli (STEC) including the 'Big 6'. InstantLabs also offers a porcine DNA detection kit and is currently shipping preproduction kits for detecting equine DNA.
Tags:
Date Published: 15th July 2013
Related news