25th November 2013 Content supplied by: Mocon
Indicator Organisms Added to Greenlight® Food Safety Platform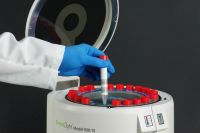 MOCON®, Inc. has now added rapid "indicator organism" testing capability to its proven GreenLight® microbial detection platform, reducing test time up to 60 percent. In addition to the previously available total count (TVC, APC) testing capability, the GreenLight system now is able to simultaneously test for enterobacteriaceae and total coliform counts using its oxygen-depletion sensor and automated reader.
Food processors will be able to significantly benefit from these test methods, with quantitative test results of about 10 CFU/g in 10 hours or less. This compares favorably to the 24 hours typically required by traditional "indicator organism" methods. Target applications include dairy and meat processing, as well as sanitation/hygiene programs.
GreenLight achieves results for enterobacteriaceae (EB) and coliforms using the same automated reader and unique APCheck™ oxygen sensing vials as for Total Plate Count. The user simply adds a commercially available selective media to the vial. This means that "indicator organism" testing becomes even more efficient because initial sample preparation is the same for TVC, EB and Coliform. The GreenLight system can then be loaded with all indicator tests at the same time and all data displayed automatically.
The GreenLight system is configured to provide quantitative on-screen data and pass/fail testing in a fully automated mode. One of the most attractive features of the GreenLight system is "the higher the load, the faster the test." Users can set a pass/fail limit and be warned of failures in a much shorter time than traditional plate count methods-which require 24-72 hour incubation time regardless of bacterial load.
Laboratory personnel also benefit from shorter preparation times due to the elimination of multiple dilutions. The simplified preparation process reduces costs and decreases the chance of lab error. Additionally, since GreenLight's "objective" test protocol does not rely on plate counting, errors are further reduced while quantitative information is saved to a secure database for statistical process control or trend analysis.
For more information, please visit: www.microbialdetection.com
Tags:
Date Published: 25th November 2013
Source article link: View