6th July 2016 Content supplied by: Microgen Bioproducts Ltd.
Improved Specificity of Microgen Path-Chek Rapid Listeria Screening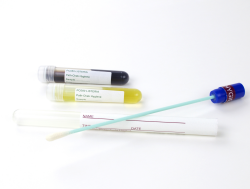 Environmental monitoring for Listeria spp. is a critical requirement for most food processors. One of the major problems when screening environmental surfaces for the presence of Listeria spp. is the potential presence of Enterococcus faecalis and, to a lesser degree, mesophilic Bacillus species, all of which produce similar positive reactions in most commonly employed Listeria screening media. This can result in high numbers of false positive reactions when samples are taken from surfaces which have not been adequately cleaned and sanitized.
From an operational point of view, the incidence of false positive results from Listeria environmental testing can be advantageous in highlighting poor cleaning practices. However, the confirmation of false positive Listeria screening tests can result in significant work, cost and delays in reporting final results.
Microgen Bioproducts are delighted to announce a number of changes to our Path-Chek Listeria test which has resulted in far greater specificity, significantly reducing the incidence of false positive tests and the associated costs.
Mike Bennett, Microgen Sales & Marketing Manager, stated "The Path-Chek range, which also includes Path-Chek Salmonella and Path-Chek Coliforms, are popular, cost-effective solutions for environmental screening. The sensitivity and specificity of the original Path-Chek Listeria test were on the same level as similar products on the market, these improvements have now drastically reduced the incidence of false positives. In many cases, this will lead to significant cost savings for our customers".
If you are interested in cost-effective environmental screening for Listeria spp. or are experiencing unacceptably high false positive rates with your current method, we'll be delighted to hear from you.
For more information on the range of Microgen products please visit our new website www.microgenbioproducts.com or contact us at sales.camberley@lab21.com
Tags:
Date Published: 6th July 2016
Source article link: Microgen Bioproducts Ltd.