4th November 2016 Content supplied by: Pall Corporation
GeneDisc® Legionella Receives Extended Validation for Qualitative Screening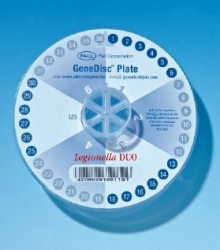 New Legionella testing guidelines for water samples were recently released and include the use of Polymerase Chain Reaction (PCR) technology for Legionella qualitative detection. To support these changes, the NF VALIDATION certification scope of the GeneDisc Legionella method from Pall was extended to qualitative detection.
"Laboratories can now achieve real-time routine risk assessment and rapid source screening during outbreaks within the scope of these new guidelines using a validated method" says Guillaume Piquet, GeneDisc Product Manager. Accelerated actions can be initiated with a direct screening for negative samples with the GeneDisc Legionella method in as short as 2 hours compared to several days with the culture method.
This validation extension comes in addition to the previous validation scope including quantification of Legionella pneumophila and/or Legionella spp. in all water types according to NF T90-471 and ISO/TS12869 standards.
Tags:
Date Published: 4th November 2016