5th January 2016 Content supplied by: Luminex Corporation
FDA Clearance for 96-Well NxTAG® Respiratory Pathogen Panel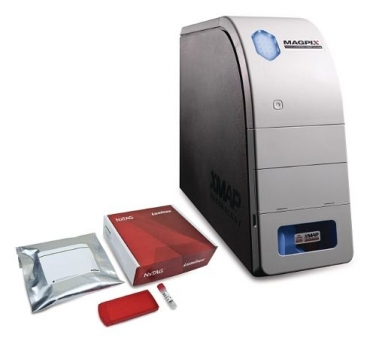 Luminex Corporation has received FDA clearance for its NxTAG® Respiratory Pathogen Panel that detects 20 clinically relevant viral and bacterial respiratory pathogens, including the atypical bacteria Chlamydophila pneumoniae and Mycoplasma pneumonia. The panel is the only respiratory assay that enables laboratories to easily and simultaneously detect 20 respiratory pathogens in a single closed tube system in a format that scales to accommodate changes in throughput needed to respond to seasonal changes in demand, especially during flu season. FDA clearance, which was received less than 90 days from submission, follows the CE Mark received for the panel in October.
The NxTAG Respiratory Pathogen Panel requires only minutes of hands-on time, with no upstream reagent preparation. A simplified workflow allows extracted samples to be added directly to pre-plated, lyophilized reagents. The tubes are then sealed and ready for closed-tube amplification and subsequent detection using the Luminex MAGPIX® instrument. The innovative tube-strip design offers laboratories the flexibility to manage variable sample demand by processing a single sample or up to as many as 96 samples per run, without wasting consumables or reagents. Total turnaround time is only about three hours for 96 samples, excluding extraction.
In addition, the accompanying SYNCT™ Software provides a comprehensive approach to data analysis and reporting, and enables the NxTAG Respiratory Pathogen Panel to integrate easily into any laboratory. Any of a number of targets can be selected by laboratories to customize their testing panel.
To learn more or request a demo, visit: www.luminexcorp.com/nxtag
Tags:
Date Published: 5th January 2016
Source article link: View
Related news