EU Supports Handheld BFD-100 - Rapidly Measures TVC on Raw Meat Surface On-Site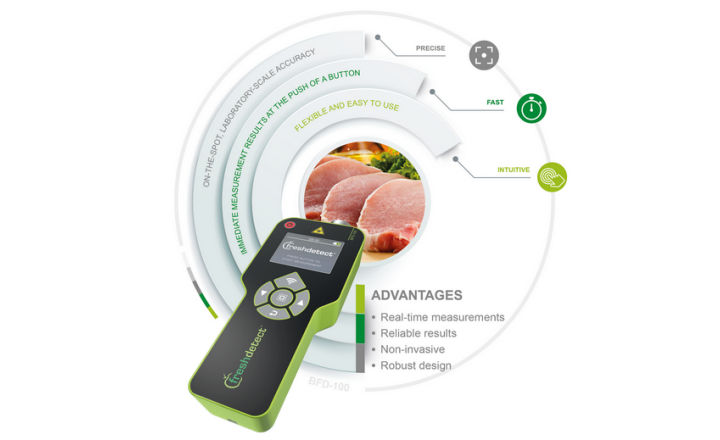 As part of its Horizon 2020 research and innovation program, the European Union has agreed to support the high-tech start-up FreshDetect GmbH headquartered in Pullach, Germany (Munich). The grant is intended to help the company expand its BFD-100, a portable device for rapid and precise quality control of food products, across Europe. The project will also support enhancements designed to fully exploit the potential of the technology in food manufacturing.
The BFD-100 is the world's first handheld device for determining bacterial contamination in raw meat. The non-invasive, fluorescence spectroscopy measurement ascertains the Total Viable Count (TVC) within seconds, but with a level of accuracy similar to standard microbiological methods. The result is displayed in CFU/cm² .
"Each year, 88 million tons of food valued at €143 billion are wasted in the EU alone," explains Oliver Dietrich, Managing Director of FreshDetect GmbH. "With the BFD-100, the first portable measurement device for rapidly determining the microbiological quality of food, our aim is to help address this issue. The BFD-100 is the first device that enables hygiene quality control across the entire production process and creates a new dimension in food safety. It furthermore lays an important foundation for optimizing the manufacturing process and minimizing food waste."
An expert analysis conducted by MicroMol, an independent analysis laboratory based in Karlsruhe, has shown that measuring the TVC in meat with the help of the freshdetect BFD-100 provides results that are just as accurate as conventional laboratory methods. MicroMol carried out the validation on the BFD-100 portable measurement device from FreshDetect using minced meat samples.
The results of the analysis illustrate a clear correlation between the BFD-100 measurement values and the conventional test method with a correlation efficient of R2 = 0.53. The statistical error (root mean squared error) of 0.88 log-units is even lower than the manufacturer's stated log unit of 1.0. Because the BFD-100 normally ascertained slightly higher values than the conventional method at a low bacterial burden of under 6.0 log10 (CFU/g), there is an extremely low risk that a breach of the threshold value will go undetected. The reproducibility rate of the BFD-100 was even 46 percent better than the conventional lab method during the study carried out by MicroMol.
The summary and complete study can be downloaded here:
www.freshdetect.com/en/news/downloads/
How does it work? Watch YouTube video here
Tags:
Date Published: 11th September 2018
Source article link: FreshDetect GmbH