25th November 2015 Content supplied by: Pall Corporation
Early Detection of Salmonella spp. with GeneDisc® Technology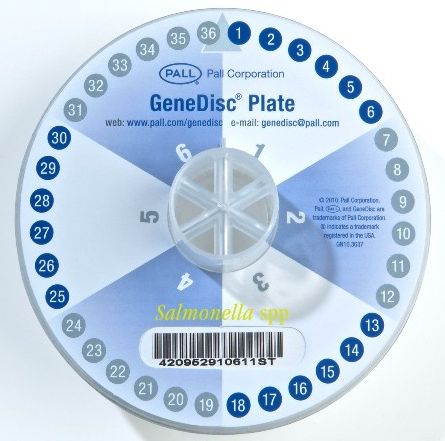 Pall has released a new GeneDisc technology application enabling the detection of Salmonella spp. within one working shift. This new protocol allows food industries to rapidly assess the Salmonella contamination level of their raw material, in-process samples and final products. The application flexibility enables industries to set a limit of detection range from 1 CFU/sample to 1 CFU/g with a time to result as little as 4 hours.
Shorter time to result allows the ability to evaluate and select raw material suppliers before processing them. Now industries can take informed in-process decisions and intervene in order to lower the risk of contamination of end-product. As an example, in-process products can be sorted to cooked or fresh food processes, dramatically reducing the financial impact of product scrapping and recalls. Final product testing can also be performed in one working shift.
"We wanted to provide our customers with a maximum flexibility in terms of testing strategies" says Sirine Assaf, Managing Director GeneDisc Technologies "They now can choose the best combination of sensitivity and rapidity that best fits each process stage to ultimately reach a higher profitability".
The GeneDisc system is a complete microbiological control tool for food industries. GeneDisc tests for Salmonella, Listeria, pathogenic E. coli O157 and STEC Top 7 are also available and certified by AOAC and NF VALIDATION.
To learn more about this new application or other existing applications, click on the 'Request More Information' button below.
Tags:
Date Published: 25th November 2015