29th September 2020 Product update: rapidmicrobiology.com
COVID-19 or Flu? a rapidmicrobiology Special Focus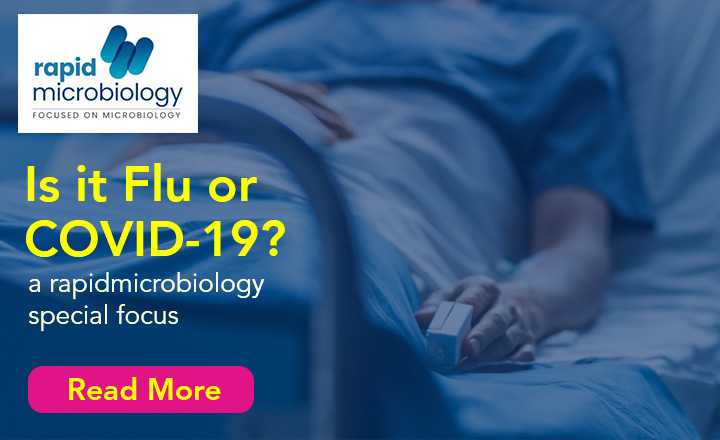 All hands on deck! As virology labs worldwide brace themselves for a flu season like no other, with clinicians seeing patients with symptoms that can indicate COVID-19 or flu or both, reliable sample collection and rapid diagnostics will be key to the triage of presenting patients.
As the global death toll from COVID-19 hits one million, don't let the viruses win this war, prepare for the upcoming winter virus and COVID-19 season with the latest tools on the market as described in this rapidmicrobiology special focus.
Start with saving some money with a discount from Thermo Fisher Scientific (for USA customers only, terms and conditions apply) - buy four lateral-flow test kits for Influenza A & B and get one more at no extra cost! These easy to use kits deliver a flu result in 15 minutes with minimal hands-on.
Reliable, USA made Puritan swabs - keep things simple, use one swab to detect either Flu or COVID-19 or both! Puritan offers a selection of swabs to suit your test, be it rapid or traditional. You'll need a transport medium for that swab, and EKF Diagnostics' FDA & CE-IVD marked PrimeStore® Molecular Transport Medium deactivates, stabilizes and preserves viral DNA and RNA, ensuring workplace safety for laboratory staff. 
Validating a COVID-19 or flu assay? Use Microbiologics SARS-CoV-2 & Influenza IVD controls to challenge each step in your molecular assay procedure from sample collection right through to PCR signal detection. 
Have confidence in your COVID-19 diagnostic result with EUROIMMUN's EUROReal Time SARS-CoV-2 kit, which boasts a limit of detection of 1 copy/µl and 100% specificity. 
Looking to bring a diagnostic kit to market to differentiate between influenza, COVID-19 and RSV? PCR Biosystems' high-concentration RT-qPCR kit is designed for high-throughput detection for both singleplex and multiplex formats. 
If you're involved in research, you must get familiar with Sino Biological's collection of recombinant proteins which include viral antigens from over 300 strains of Influenza.
Get the Picture! Interpret rapid immunoassay tests results and analyze immune response with the FDA listed and CE-marked IUL SA's iPeak® Reader, ideal for large-scale COVID-19 immunity monitoring.
Tags:
Date Published: 29th September 2020
Note: This content has been edited by a rapidmicrobiology staff writer for style and content.