4th July 2017 Content supplied by: CERTUS
CERTUS™ Debuts Bio-Contained, In-House Pathogen Detection System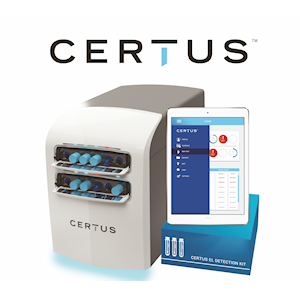 A simultaneous brand launch and upcoming product preview offers IAFP attendees an inside look at the technology and expansive vision of the CERTUS brand.
CERTUS makes environmental testing and monitoring, which was once complex, a "Simple, Safe and Smart" process, greatly reducing time and cost by eliminating media preparation, sample preparation, courier expense and risk of opening an enriched sample in the plant.
The company's patented Grow, Read, Detect™ continuous monitoring process combines enrichment and high sensitivity detection in a homogenous, no-wash format for real-time monitoring; it eliminates complex workflow; and enables any food processor to conduct safe and easy on-site testing, receive instant alerts, and take action to remediate. The first commercial system will be launched in 2018 for environmental monitoring and prevention of Listeria spp.
The FDA is currently proposing to require environmental testing when:
A ready-to-eat food product is exposed to the environment before it is packaged; and
The packaged food does not receive a treatment that would significantly minimize an environmental pathogen that could contaminate the food.
In all other circumstances, FDA is proposing to require environmental monitoring only "as appropriate to the facility, the food, and the nature of the preventive control."
"We are focused on building a business that solves real problems," says CERTUS President, John Coomes. "Now with FSMA compliance requirements, small and medium-sized producers face expensive outsourced testing that takes days for results to come in or they need to invest in bio-safe labs, expensive equipment, and highly skilled lab technicians. Our customers will avoid all of those risks and expenses."
Visit certusfoodsafety.com.
Tags:
Date Published: 4th July 2017
Source article link: View