15th December 2014 Content supplied by: Abbott Laboratories
CE Marking for Abbott's IRIDICA Infectious Disease Platform
Abbott's innovative diagnostic platform, known as IRIDICA, is now available in Europe and other CE–Mark recognized countries. The new platform can identify more than 1,000 infection–causing pathogens in less than six hours, versus culture-based testing.
IRIDICA uses a combination of sophisticated testing technologies known as Polymerase Chain Reaction/Electrospray Ionization Mass Spectrometry (PCR/ESI–MS) to rapidly identify infection–causing pathogens directly from a patient's sample, without the need for culture. According to Abbott's RApid Diagnosis of Infections in the CriticAlly IlL (RADICAL) study results, the technology was able to detect pathogens when the current standard of care did not. In the study, after retrospectively comparing the results of Abbott's technology versus culture, an independent panel of physicians<sup>1</sup> reported it would have prescribed a different course of treatment in nearly 60 percent of cases evaluated. Additionally, analysis of the study results suggested that Abbott's technology could help lower associated health care costs by 30 percent and reduce hospital stays for people with serious infections by up to eight days.
IRIDICA currently offers five testing panels for pathogens that cause infections in the critically ill such as sepsis; other bacterial, fungal and viral infections; and ventilator–associated pneumonia.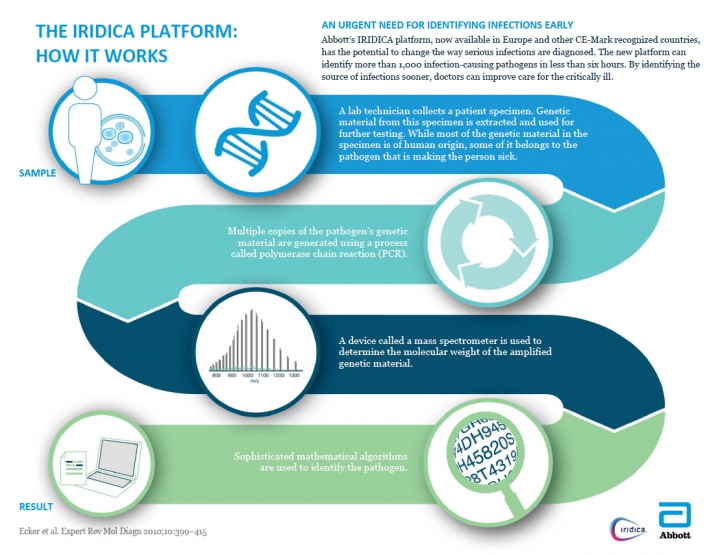 References:
1 Seven independent physicians from the United Kingdom, France, Belgium, Poland, Switzerland and Germany on an adjudication panel assessing the RADICAL study retrospectively. 2 For a hospital that sees approximately 500 patients with blood-related infections each year. Costs were derived from intensive care and non-intensive care lengths of stay.
Please note : Any products described on this page are for Research Use Only and not intended for clinical diagnostic procedures unless otherwise stated.
Tags:
Date Published: 15th December 2014
Source article link: View