22nd May 2017 Content supplied by: The Baker Company
Baker Ruskinn Bugbox Anaerobic Workstation to Feature at ASM Microbe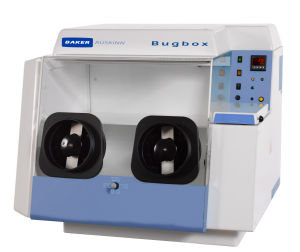 Baker Ruskinn will be exhibiting at the ASM Microbe 2017, June 2-4 at the Ernest N. Morial Convention Center in New Orleans, LA. Baker will feature the Bugbox Anaerobic Workstation at Booth # 2546.
A powerful anaerobic workstation, the Bugbox features a small footprint with 200 x 90mm plate capacity at an affordable price, ideal for hospitals and small labs clinical diagnostic screening applications.
Bugbox anaerobic workstations are designed specifically to help microbiologists cope with rising workloads and provide the best primary isolation rates. Plates can be examined easily without exposing them to oxygen. The interlock system allows simple and fast transfer of 10 x 90mm plates into the anaerobic chamber. With quick and easy access via the Ezee Sleeve Glove port system and energy-saving lighting that provides perfect illumination, Bugbox is easy to use. Its compact size meets the needs of even the smallest laboratory spaces. Adjustable temperature and humidity provides a precisely controlled anaerobic environment that is optimal for cell growth, with no dry spots. Compared with approximately 20 anaerobic jars per week, Bugbox is economical with a lower cost per plate, more reliable, providing a stable atmosphere, and minimal maintenance.
In addition to the Bugbox, Baker & Baker Ruskinn feature the following complimentary microbiology equipment solutions:
Concept Range anaerobic workstations have been designed to maximize productivity of systemized anaerobic or microaerophilic incubation; bringing together a host of brand new features that will deliver immediate benefits in the laboratory. With new innovative features, four models and higher capacity, the Concept range provides f the best primary isolation rates for anaerobic and microaerophilic cultures.




The SterilGARD® e3 Biological Safety Cabinet from Baker provides proven air containment and contamination controlled technology that saves energy, increases productivity and improves worker safety.




Baker's EdgeGARD HF horizontal laminar-flow clean bench provides HEPA-filtered air and proven product protection ideal for a range of laboratory applications. With a patented cabinet design incorporating high-velocity return air slots, EdgeGARD HF provides precise directional control of airflow volumes and velocities, thereby maximizing product protection and ensuring Class 100 air cleanliness for the laboratory.
ASM Show Passport! Bring your ASM Exhibit Hall Passport (included in the ASM Meeting & Exhibit Guide) to be stamped at the Baker booth #2546 for a chance to win ASM show prizes!
Can Your Lab Afford to Keep Using Anaerobic Jars? The Baker Ruskinn Bugbox is economical with a lower cost per plate, more reliable and provides a stable environment. Download our Bugbox vs. Jars Cost Comparison poster and see an 'easy to justify' alternative to anaerobic jars. Find out if you could save money by switching to Bugbox!
New Total Cost of Ownership Comparison Tool Baker is pleased to release a new tool designed to help you understand and compare the total lifetime costs associated with most biosafety cabinets. Baker's new Biosafety Cabinet Total Cost of Ownership Calculator provides a quick total cost of ownership comparison between Baker's own Class II, Type A2 Biosafety Cabinet and what you can expect to receive with the average BSC.
Please note : Any products described on this page are for Research Use Only and not intended for clinical diagnostic procedures unless otherwise stated.
Date Published: 22nd May 2017
Source article link: View
Related news