12th March 2021 Content supplied by: Jiangsu Bioperfectus Technologies Co., Ltd.
3 Facts Hidden Behind the Shortage of COVID-19 Rapid Antigen Test in EU
It is critically important to develop a robust testing strategy in the face of the ongoing COVID-19 pandemic. While the reverse transcription real-time polymerase chain reaction (RT-PCR) assay, which is a nucleic acid amplification test (NAAT), remains the "gold standard" for COVID-19 diagnosis, rapid antigen tests, which detect the presence of viral proteins (antigens), are quickly entering into the market, allowing faster and cheaper ways for communities to detect ongoing infection. 
With the recent news, "Germans flocked to supermarket chain Aldi on Saturday to snap up the first rapid coronavirus tests to go on sale nationwide, with stocks selling out within hours," people didn't stop to wonder why rapid antigen tests are so "popular" nowadays?
Three facts lie behind the shortage of COVID-19 Rapid Antigen Test in Europe, which we will try to reveal in this article.
Fact 1. EU Countries Heavily Relying On Rapid Antigen Test As Surplus Testing Option Through Next Phase Of The Pandemic
According to the EU Directorate-General For Health And Food Safety, "On 21 January 2021, Member States unanimously agreed on a Council recommendation setting a common framework for the use of rapid antigen tests and the mutual recognition of COVID-19 test results across the EU." Since then, rapid antigen tests are increasingly being used by Member States to further strengthen overall testing capacity, particularly in case of limited NAAT capacities.
Fact 2. The Pace Of Vaccinations Remains Sluggish
Although three vaccines have now been approved and the manufacturers are ramping up their production worldwide, the pace of vaccinations remains to be sluggish in many respects. 
As of March 10, 2021, at 11:48 p.m., according to CNN Health, at least 125 countries and territories have administered more than 319 million doses of a COVID-19 vaccine. However, as the World Health Organization (WHO) and each countries' health administration are trying their best to pick up the pace with vaccination, there is still a gap between plan and reality.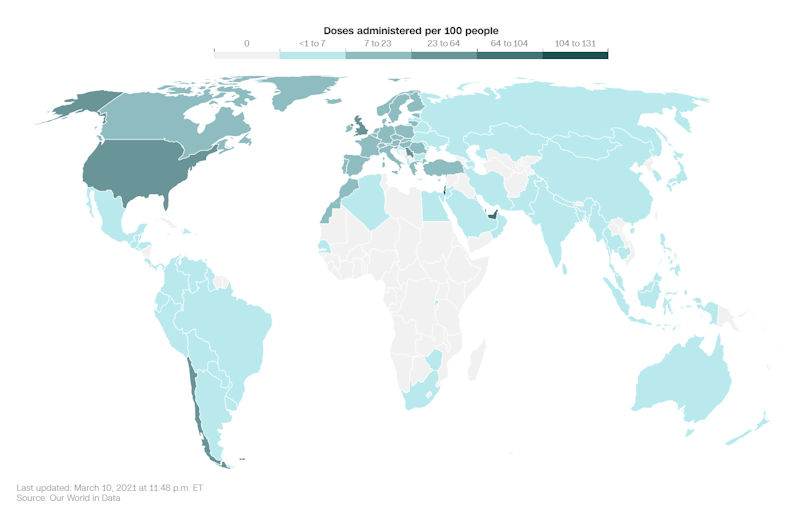 Source: CNN Health
Rather than waiting for inoculation, many European countries have shifted to home self-testing, which has been attributed to the current shortage of rapid antigen tests.
Fact 3. Increasing Demand Met With A Comparative Weak Supply Chain
The manufacturing and production of rapid tests is still a tough question when considering how COVID-19 and other regulatory factors have hindered their release to the world. Meanwhile, since the official announcement from the EU in early 2021 on the adoption of rapid antigen test use, a phenomenon of a growing demand for rapid antigen test versus a shortage of rapid antigen test has been formed.
Bioperfectus Novel Corona Virus (SARS-CoV-2) Ag Rapid Test Kit with High Sensitivity and Specificity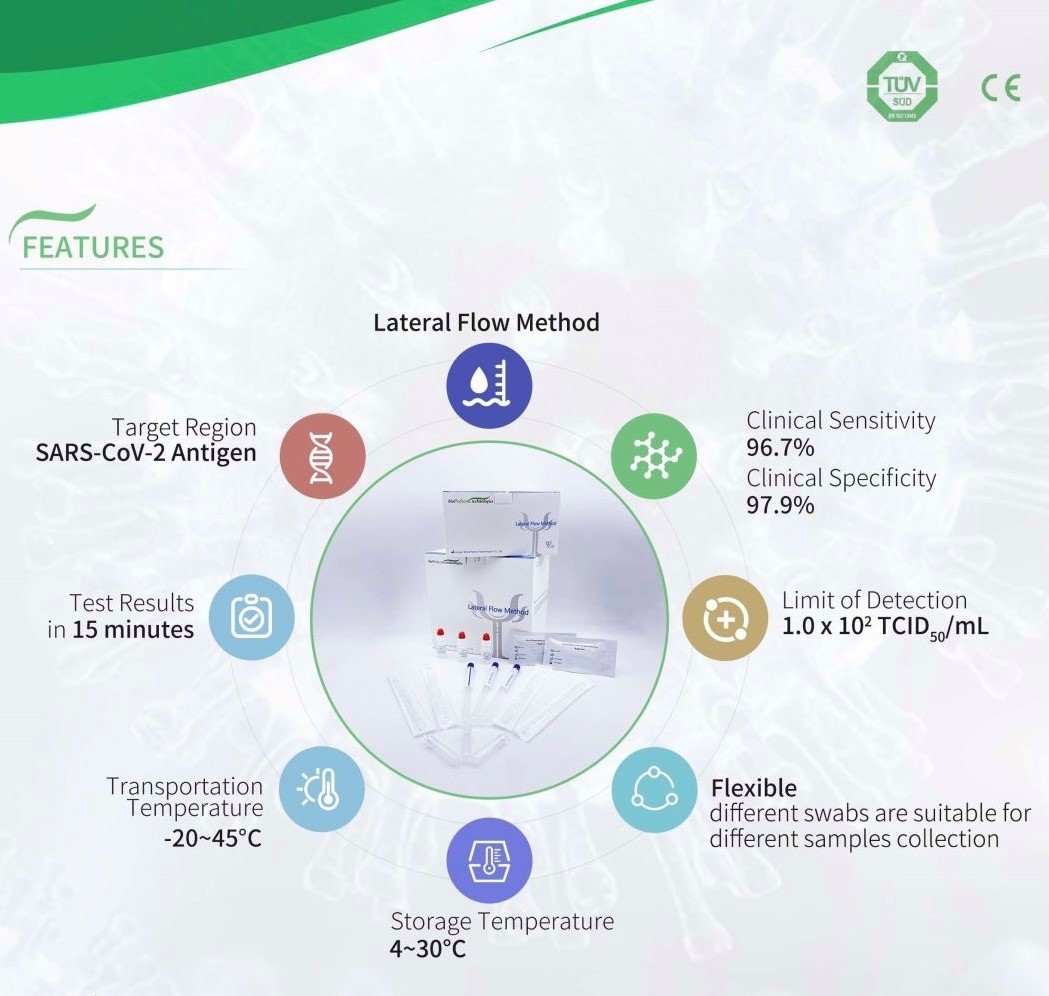 Bioperfectus aims to distribute its rapid antigen tests worldwide to assist in the fight against SARS-CoV-2. With a 96.7% clinical sensitivity and 97.9% clinical specificity, this antigen test will perfectly suit your needs. To meet various testing demands in different clinical laboratories, Bioperfectus Novel Corona Virus (SARS-CoV-2) Ag Rapid Test offers nasal, nasopharyngeal, and oropharyngeal swab in both sterile tube and sterile peel-down pouch packages.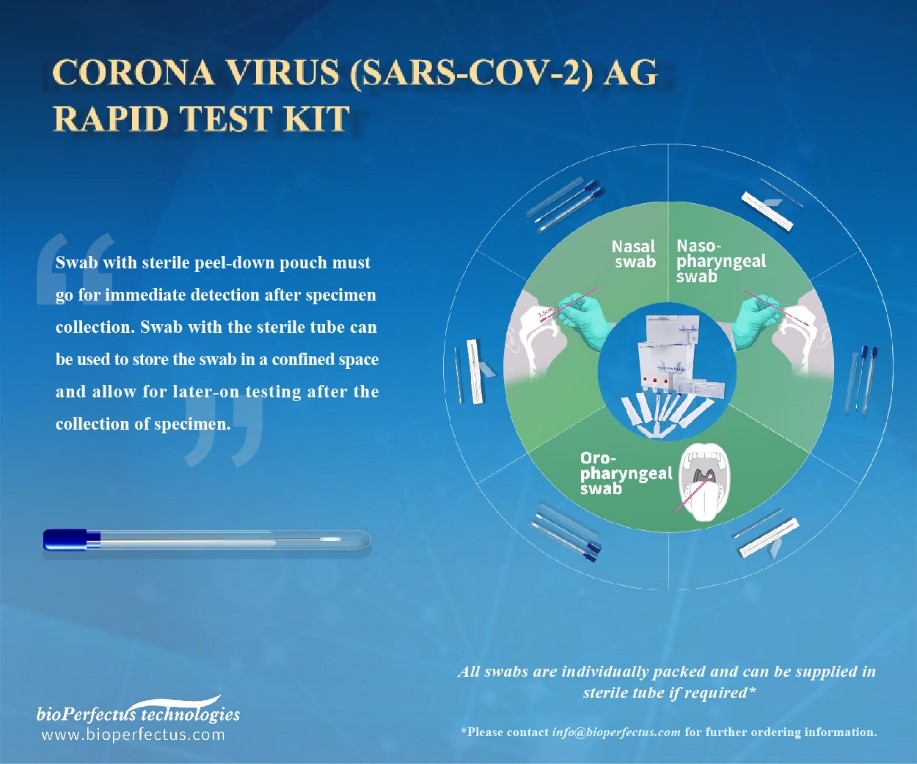 In addition, in the recent evaluation performed by the Department of Health and Social Care in the United Kingdom, Bioperfectus Novel Corona Virus (SARS-CoV-2) Ag Rapid Test Kit showed no drop off in sensitivity when compared with the wild type concerning the following variants-VOC1 Kent, UK, B.1.1.7 and VOC2 South Africa, B.1.351.
Bioperfectus Coronavirus Diagnostic Solution Easy, Fast and Effective Antigen Test for COVID-19:
How to Use Bioperfectus Novel Corona Virus (SARS-CoV-2) Rapid Antigen Test:
Advantages:
Fast results within 15 minutes


Easy to use: 3 steps to perform test


Convenience: all necessary components provided


Flexible: different swabs are suitable for different samples collection


Safety: swab with the protective jacket can be used to avoid biohazard


Quality control: ensure the result is reliable
Parameters:
Clinical Sensitivity: 96.7%


Clinical Specificity: 97.9%


Limit of Detection: 1.0×102TCID50/mL 


Sample type: nasal swabs, nasopharyngeal swabs, and oropharyngeal swabs


Storage temperature: 4~30℃


Transportation temperature: -20~45℃


Shelf Life: 12 months
Catalog No.: SC30107W
Product: Novel Corona Virus (SARS-CoV-2) Ag Rapid Test Kit
Package: 1/20/50 Test(s)/Kit
Certificate: CE-IVD
For more information about our rapid antigen test, please feel free to visit our website or send us an inquiry via the 'Request Information' button provided below. 
Tags:
Date Published: 12th March 2021
Source article link: View