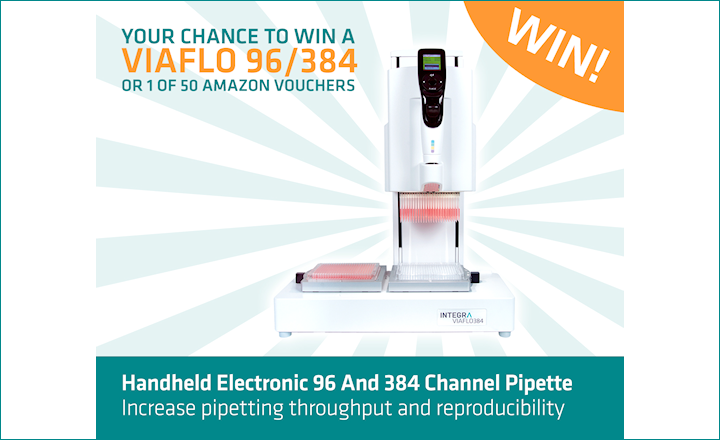 WIN a VIAFLO 96/384 to Supercharge your Microplate Pipetting!
INTEGRA Biosciences is offering labs the chance to win a VIAFLO 96/384 pipette.
Affordable, compact and user-friendly, the VIAFLO 96/384 enables straightforward liquid transfers for 24-, 96- or 384-channels in parallel. The unique operating concept makes VIAFLO 96/384 as easy to use as any traditional handheld pipette. Easily interchangeable pipetting heads to allow you to switch between 24-, 96- and 384-channel pipetting as required.
To be in with a chance of winning a VIAFLO 96/384 simply fill out a short questionnaire to help us to understand your pipetting needs even better. And even if you don't win a VIAFLO 96/384, you could be one of 50 entrants to win a $20 Amazon voucher.
The deadline for entries is the 31st March 2019. The winner will be announced shortly afterwards.
Visit the INTEGRA Biosciences website and fill out the questionnaire now for a chance to accelerate your workflow!