Upcoming Microbiology Events : pharmaceutical , 2022-01
Summary : The HybriScan® test system uses in situ hybridization to provide fast and accurate detection, identification, and quantification of spoilage and pathogenic microorganisms in beverages, water, and food. Watch this on-demand webinar to find out more. more...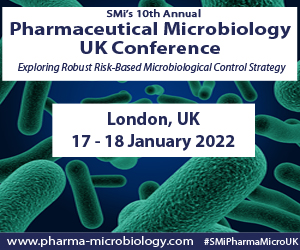 : 17 Jan 2022 - 18 Jan 2022
: London, United Kingdom
Sector: Pharmaceutical Type: Conference - In person
Summary : SMi's flagship microbiology conference is celebrating its 10 year anniversary. The conference taking place on 17 and 18 January 2022 in London, UK will bring together microbiology industry experts. more...