Upcoming Microbiology Events : cosmetic-personal-care , 2019-10
: 29 Oct 2019 - 30 Oct 2019
: Philadelphia, United States
Sector: Cosmetic/Personal Care Type: Conference
Summary : The 2019 Cosmetic Science Symposium & Expo offers personal care products industry staff one-stop shopping for information about Microbiology, Quality Assurance, Safety, and the Environment. more...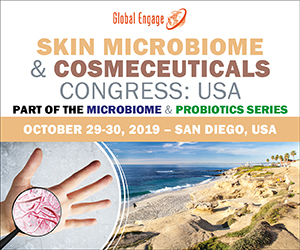 : 29 Oct 2019 - 30 Oct 2019
: San Diego, United States
Sector: Cosmetic/Personal Care Type: Conference
Summary : The Skin Microbiome Congress is one of the three meetings forming the Microbiome & Probiotics Series: USA. New for 2019 this complete congress is dedicated to exploring the burgeoning field of skin microbiome research. more...