World Biosimilar Congress USA 2018 - San Diego, CA
: 23 May 2018 - 24 May 2018
: San Diego, United States
Sector: Clinical, Pharmaceutical
Type: Conference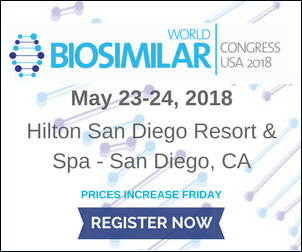 With 3 years now under its belt, World Biosimilar Congress USA has become the staple meeting where biosimilar stakeholders gather to address the current and future state of Biosimilars in the United States. Join us this May 23-24 in San Diego, CA.
With the success of two dedicated streams in 2017, we gained insight from two distinct crowds – one that excelled in the analytical and manufacturing end – and one that excelled in the business and strategic end.
World Biosimilar Congress USA 2018 will allow us to continue to dive deeper into both the science of Biosimilar development – and the business needs for companies that continue to seek FDA approval. The growth from 2017 allows us to promise an even more robust crowd of key stakeholders in 2018.
Among the 100+ speakers, are industry leaders from Europe, India, China, Brazil, and several other global markets. Over 300 biosimilar experts will attend the World Biosimilar Congress to find the answers and help shape the future of U.S. healthcare.
For more details and registration visit
www.terrapinn.com/conference/biosimilar-congress-usa
Details

Venue
San Diego
CA
United States