SMi's 8th Annual Pharmaceutical Microbiology Conference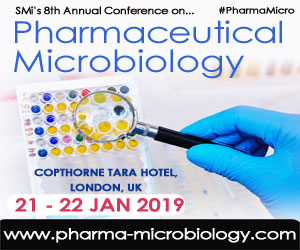 : 21 Jan 2019 - 22 Jan 2019
: London, United Kingdom
Sector: Laboratory Equipment, Pharmaceutical
Type: Conference, Exhibition, Workshop
Addressing the key challenges, trends and strategies in contamination control

SPONSORED BY: 
GOLD SPONSOR: DuPont
SPONSORS: Mettler Toledo, Biomerieux and Copan Group

CHAIRED BY:
James Drinkwater, Chairman, Pharmaceutical & Healthcare Sciences Society
Olivier Chancel, Sterility and Aseptic Process Assurance, Expert, Boehringer Ingelheim
The pharmaceutical microbiology industry has seen many changes during the progression into the 21st century. With advances in rapid microbiological methods, revisions being made to regulations in the industry, enhanced knowledge of the human microbiome, and novel testing methods, this industry is ever expanding. In fact, the value of the rapid microbiology testing market is expected to reach USD 6.2 Billion by 2022, expanding at a CAGR of 7.3% from 2016 to 2022. This is the 8th year of a conference which is continually run by SMi and which has been very successful over the past few years.
 
Developing on last years' success, Pharmaceutical Microbiology UK 2019 will bring together industry experts to discuss and analyze the latest advancement and challenges within pharmaceutical microbiology. Discover how you can keep up with regulatory changes, and maintain the utmost efficiency during production and testing.

Event Hashtag: #SMiPharmaMicro

At the 8th Annual Pharmaceutical Microbiology Conference, you will gain insight into:
Challenges in development of a contamination control strategy for different product types
A series of learning experiences within contamination from Boehringer Ingelheim
The use of vaporized hydrogen peroxide bio-decontamination technology in microbiology contamination control
Case studies in deinococcus and fungal and bacterial spores in cleanrooms
Influence of temperature of incubation on results of microbiological environmental monitoring
Risk mitigation strategies for animal-derived raw materials

FEATURED SPEAKERS INCLUDE:
Alexander Stoll, VP Competence Center Microbiology & Aseptic Technique Quality Management, Fresenius Kabi Di Morris, Senior Manager, Team Leader, Vaccines Quality Audit, GSK
Marine Marius, Scientist, Analytical Research & Development Europe, Sanofi Pasteur
Philippe Dutot, Sterility Assurance Specialist, Novo Nordisk
Renate Rosengarten, Professor and Chair of Bacteriology and Hygiene, University of Veterinary Medicine Vienna
Thierry Bonnevay, Microbiology Platform Head, Analytical Research and Development, Sanofi Pasteur
Tim Eaton, Sterile Manufacturing Specialist, AstraZeneca
KEY TOPICS FOR 2018 INCLUDE:
Rapid Microbial Methods Revision of Annex 1 and impact on pharmaceutical microbiology
Contamination control strategies and case studies
Mycoplasma detection, prevention and control
Future of endotoxin testing in pharmaceutical industries
Strengths and weaknesses of vaporized Hydrogen peroxide as a bio-contamination control agent
Mold contamination control 
Influence of temperature of incubation on results of microbiological environmental monitoring
WHO SHOULD ATTEND
Senior Microbiologist, Lead Scientist, Laboratory Manager, QA Specialist Drug Substance External Manufacturer, Business Development Manager – Testing, Pharmaceutical Microbiology Consultant, Higher Pharmacopoeial Scientist, Analytical Standards Specialist
Details

Venue
Copthorne Tara Hotel, Scarsdale Pl, Kensington
London
W8 5SY
United Kingdom