Pharma Microbiology Congress: Virtual and In Person, 2023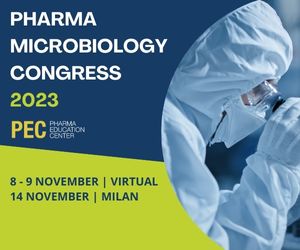 : 8 Nov 2023 - 14 Nov 2023
: Milan, Italy
Sector : Pharmaceutical
Type : Conference - In person, Conference - Virtual
November 8th and 9th - Virtual 
November 14th - Milan
The Pharma Microbiology Congress is the European annual meeting point of professionals involved in the sterile manufacturing of medicinal products and medical devices.
A full immersion on the latest regulatory updates, new technologies for the detection and containment of contamination, best practice, and strategies to improve the sterility assurance of the manufacturing and control of sterile medicines.
Professionals belonging to different areas of expertise (Production, Engineering, Quality Control, Quality Assurance, R&D, Maintenance) will get together to share and discuss the hottest topics with experts coming from Regulatory Bodies, Pharmaceutical Companies, Consultancy, Associations, and New Technologies providers.
The program will see the contribution of top international speakers as experts, key opinion leaders, and representatives of institutions.
Who should attend? The event is aimed specifically at Pharma, Biotech, and Medical Device Companies, Regulatory bodies, and Technology Suppliers involved in the manufacturing and control of Sterile medicines.
This year the congress is delivered as follows:
November 8-9 | 2 days of the virtual conference with speeches, keynote lectures, panel discussions, and round tables
AND November 14 | 1 day of face-to-face workshop in Milan to meet the experts, colleagues, and technologies providers.
Register here or use the green button below to contact the event organiser for details.