Next Generation Pharmaceutical Cleanrooms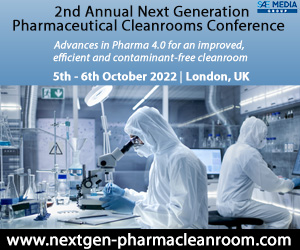 : 5 Oct 2022 - 6 Oct 2022
: London, United Kingdom
Sector : Pharmaceutical
Type : Conference - In person
SAE Media Group is proud to present the 3rd Next Generation Pharmaceutical Cleanrooms Conference on October 2022.
Cleanroom technology is an essential requirement for every pharmaceutical company. From research to manufacturing, sterile environments are everywhere, and it is no surprise that the global market for cleanroom technologies is expected to pass USD 7.3 billion by 2025 from USD 5.1 billion in 2020.
Regulatory changes, technological advancements and advanced therapeutics are all contributing to this growth. The 2022 agenda will highlight the key drivers and overarching challenges of the industry, making this one of the most exciting and important spaces to join for pharmaceutical CMC and manufacturing.
This year's conference will focus on 4 key themes: Annex 1 and the upcoming GMP changes, improving cleanroom accessibility and efficiency and adaptable cleanroom design and validation. The agenda will highlight insightful case studies across these themes, uncovering key developments and the future of pharmaceutical cleanrooms.
This two-day agenda offers you peer-to-peer networking with industry experts and representatives from leading pharmaceutical companies and is the perfect opportunity to maximise your pharmaceutical cleanroom's full potential.
We look forward to welcoming you to the conference in October.
Register here or use the green "Request Information" button below to contact the event organiser for details
Details

Venue
London
United Kingdom