New and Emerging Methods in Microbiology Workshop, UK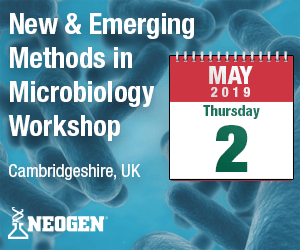 : 2 May 2019
: Wellcome Genome Campus, Hinxton, Cambridgeshire, United Kingdom
Sector: Food & Beverage
Type: Workshop
Focusing on the latest advances, news and trends within the industry, Neogen have put together a detailed programme suited to both food manufacturers and commercial laboratories alike. 
Learn about a range of topical issues from environmental monitoring, to innovative alternative testing methods and 16S Metagenomics (Next Generation Sequencing).
On the day you will be able to meet and share knowledge with Neogen's fantastic range of internal and external speakers.
Details

Venue
Wellcome Genome Campus, Hinxton, Cambridgeshire
United Kingdom
Organizer