Lab Innovations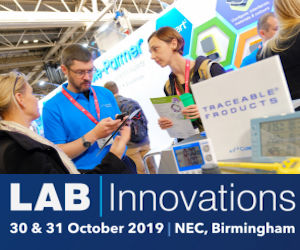 : 30 Oct 2019 - 31 Oct 2019
: Birmingham, United Kingdom
Sector: Clinical, Food & Beverage, Laboratory Equipment, Pharmaceutical, Water
Type: Exhibition
More than 150 leading scientific suppliers and 3,000 attendees will descend on Lab Innovations on 30 & 31 October 2019 at the NEC, Birmingham, to discover, debate and discuss the latest scientific developments and equipment. Now in its 8th year, the UK's only trade show dedicated to the laboratory industry continues to enjoy support from some of the UK's leading scientific institutions and will this year boast its largest ever exhibitor and visitor base, providing more exciting product launches, innovation and discussion than ever before.
Analytix, Anton Paar, Cole-Palmer, Eppendorf, GAMBICA, IKA, Perkin Elmer, SLS, Shimadzu and Thermo Fisher Scientific are among the big industry players participating for 2019. Joining them will be a further +150 suppliers and manufacturers presenting the most cutting-edge equipment applicable to a plethora of industries including life sciences, pharmaceuticals, petrochemicals, materials science and food and drink.
Lab Innovations will this year be celebrating 2019 as the International Year of the Periodic Table, with the Royal Society of Chemistry focusing on this theme in their dedicated theatre and several related networking events taking place across the two days.
For cleanroom specialists, the Cleanroom Hub, in collaboration with Cleanroom Technology, will provide a dedicated zone for suppliers of cleanroom-specific equipment. It incorporates a seminar pod with 2 days of educational content for cleanroom professionals, a networking lounge and dedicated exhibitor pavilion. With a clear demand for this type of content at Lab Innovations following a 68% increase in cleanroom attendees in 2018, this zone is set to create another buzz at this year's edition.
Find out more / register here:
Details

Venue
Birmingham
United Kingdom