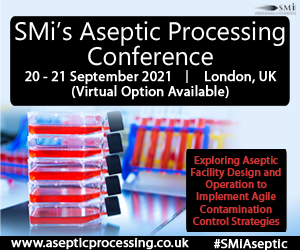 : 22 Sep 2021 - 23 Sep 2021
: London, United Kingdom
Sector : Pharmaceutical
Type : Conference - In person, Conference - Virtual, Training
The aseptic processing industry has seen many changes during its progression towards the 21st century. With advances in innovative therapeutic manufacturing such as ATMPs, pragmatic barrier system applications, adaptability, and modularity in fill-finish, robotics, and automation, small and agile product manufacturing, just to name a few.  In 2018, the global aseptic processing market was valued over $56 trillion and is estimated to increase in net revenue upwards $124 trillion by 2027, with a CAGR growth of 9.18%.

The industry is ever-changing and with the advent of innovative therapeutics taking hold, regulators and industry leaders are prompted to take proactive approaches to get treatments to patients faster.

Join SMi Group to explore novel and developing technologies that tackle the most pressing challenges and push innovation in the world of aseptic processing and sterile manufacturing.
The conference will be chaired by James Drinkwater, Head of Aseptic Processing & Containment Special Interest Group, PHSS, and Richard Denk, DACH Affiliate, ISPE

Key highlights include:
Discuss the latest regulatory updates in the industry from leading regulatory bodies
Listen to global case studies in aseptic competence from companies pioneering in the pharmaceutical industry
Explore advances in ATMP facility design that are revolutionising aseptic manufacturing
Delve into the newest contamination control technologies from VHP disinfection to fully automated pipelines
Who should attend?
Senior Sterility Assurance Manager
Sterility Assurance Specialist
Sterile Manufacturing Manager
Senior Microbiologist
Sterile Manufacturing Specialist
Lead Scientist
Laboratory Manager
QA Specialist
Drug Substance External Manufacturer
QC Scientists
Heads of Quality Control
Business Development Manager
Pharmaceutical Microbiology Consultant
Higher Pharmacopoeial Scientist
Analytical Standards Specialist
PLUS....
Pre-conference workshop on 21st September 2021
Contamination control measures in Good Manufacturing Practice (GMP) Applied to Aseptic Processing
Workshop leaders: James Drinkwater, Head of Aseptic Processing and Containment Special Interest Group, PHSS and Kevin Jenkins, Consultant, Quality Excellence Consulting
Register online at
www.asepticprocessing.co.uk
or click on the green request information button below
Details

Venue
London
United Kingdom