5th Annual European Microbiome Congress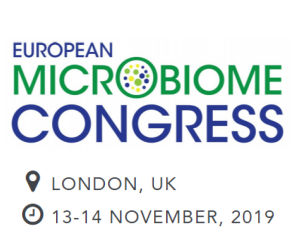 : 13 Nov 2019 - 14 Nov 2019
: London, United Kingdom
Sector: Clinical, Microbiome, Pharmaceutical
Type: Conference
The European Microbiome Congress returns to London for its 5th year on 13th - 14th November – and this time the spotlight will be on extra-intestinal diseases and the metabolic and immune system factors that intertwine them: Neurological diseases and the gut-brain axis, the gut microbiota's role in cancer and metabolic conditions.

There is an ever-increasing understanding of the molecular mechanisms and bacterial metabolites responsible in disease pathology, opening a huge potential for the development of LBPs (both single strain and consortia) and drug molecules to modulate the microbiome and provide a therapeutic response in a clinical setting.
At this year's congress: 
The latest pre-clinical data on the possible molecular mechanism and cross-talk between microbes, gut and brain in Parkinson's disease from Professor Aletta Kraneveld of Utrecht University.
Mechanisms of action for single strain LBP approach for cancer treatment - as Imke Mudler (4D Pharma) shares their Immuno-oncology program including pre-clinical and clinical data.
The interaction of animal protein intake and the gut microbiota profile from T2D Karine Clement (ICAN Institute).
and more.....

Details

Venue
London
United Kingdom