11th Annual Pharmaceutical Microbiology Conference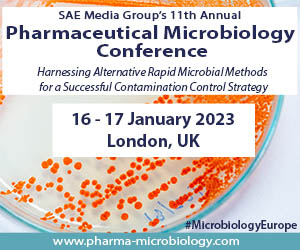 : 16 Jan 2023 - 17 Jan 2023
: London, United Kingdom
Sector : Pharmaceutical
Type : Conference - In person
Sponsored by: Microgenetics.
Co-chairs: Di Morris, Clinical Auditor, AstraZeneca, and Nigel Cryer, Deputy Director Global Audit, Sanofi
Harnessing Alternative Rapid Microbial Methods for a Successful Contamination Control Strategy
We are delighted to announce SAE's 11th Annual Pharmaceutical Microbiology conference taking place in London, UK, on the 16th-17th of January 2023.
Microbiology remains an essential tool for the detection of microorganisms present in biopharmaceutical and pharmaceutical batches. This conference will explore the most pressing topics in this thriving field, from the movement toward process automation and increased regulatory stringency to the latest technologies in rapid microbiological testing methods and data integrity.
Event Hashtag: #MicrobiologyUK
Key Highlights for 2023 Conference:
Optimise your contamination control strategy and review the initial impact of Annex 1
Learn how to utilise the latest microbiological methods to modernise your contamination control strategy
Maximise the data output from your environmental and microbial monitoring with proven strategies and technologies
Increase the diversity of your testing methodologies through industry case studies, including the recombinant factor C assay and Monocyte Activation Test
Who Should Attend? Heads of Microbiology, Heads of Aseptic Processing, Global Quality Directors, Heads of GMP Compliance, Quality & Compliance Heads, Microbiology Senior Specialists, Directors of Quality Control Biology, Quality Control Managers, Quality Assurance Managers, Lean Managers, Operations Managers, Heads of Site Compliance, Heads of Sterile Technology, Global Microbiology Analytical Experts, Cleanroom Managers, Regulatory Affairs Managers, Production Managers, Quality Systems Managers
Register here or use the green Request Information" button below to ask for details
Details

Venue
London
United Kingdom