New High-Throughput HBV Testing for Microbiology Laboratories
A complete panel of high throughput automated Hepatitis B (HBV) assays has recently been launched by Bayer Diagnostics. The assays are designed to run on the ADVIA™ Centaur™ immunoassay system which optimises productivity in infectious disease testing. This provides a total solution for high-throughput viral serology, enabling Microbiology laboratories to cope with increasing workload demands for serological screening.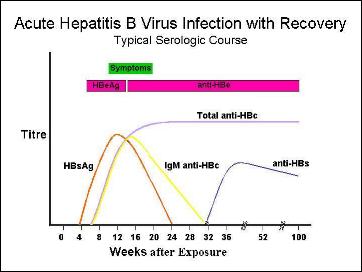 Hepatitis B Virus Infection with Recovery, Typical Serological Course
The HBV assay panel comprises:

HBsAg - a 29 minute assay offering a sensitivity of 0.1 ng/mL. Anti-HBs - an 18 minute assay offering linear measurement between 1 and 1000 mIU/mL. HBCoreTotal - an antigen bridging assay using a chaotrope to remove non specific binding, with specificity of 99.9% and throughput of 120 tests per hour.

HBCoreIgM - an M antibody capture assay with 100% clinical specificity and throughput of 120 tests per hour.

Superior assay performance is achieved through the use of state-of-the-art chemiluminescence technology on the ADVIA™ Centaur™ which delivers a high degree of assay sensitivity.

Meeting Increased Demand

Demand for HBV testing has risen sharply in the wake of increased antenatal screening for HBV infection, and is likely to increase further if compulsory screening of healthcare workers is introduced. By automating the testing process, the ADVIA™ Centaur™ provides a high-throughput solution to the serious financial/staffing issues which result from increased routine workloads.

The ADVIA™ Centaur™ is a random access system which can process a full range of infectious disease serology and therapeutic drug monitoring (TDM) assays at the highly productive rate of up to 240 tests per hour. The instrument has total on-board capacity for up to 180 samples. To maximise productivity, reagents and consumables can be added at any time without interruption to the testing process.

Several unique features make the ADVIA™ Centaur™ particularly well suited for infectious disease serology applications, enabling system users to have complete confidence in the results obtained:

- Utilisation of disposable 'single-use' pipette tips on the sample probe ensures safe primary sampling.
- Sample and reagent verification technology guarantees results against short sampling, clots and bubbles.
- Sample prioritisation is achieved by the use of a STAT port allowing the operator to manage urgent samples.
- User-defined and instrument-defined QC parameters facilitate the setting up of internal QC programmes utilising Westgaard rules.

Total solutions

Bayer Diagnostics is a member of the Bayer Healthcare Group, whose track record working in partnership with Microbiologists stretches back over 75 years. "We are committed to the development of infectious disease assays for the ADVIA™ Centaur™", says Bayer's Alistair Gammie. "HBV is the latest disease state assay group to be added to the system menu, complementing the Toxoplasma and Rubella IgG and IgM assays which are already well established, together with TDM methods for Gentamicin, Vancomycin and Tobramycin. Following their timely introduction, we will be launching additional methods for HCV and HIV testing by late Spring 2003."

The complete range of infectious disease serology methods for the ADVIA™ Centaur™ will also complement Bayer's portfolio of nucleic acid assays which are used for quantitative and qualitative viral load measurements and the detection of drug resistant viruses. Availability of these assays enables Bayer to satisfy all the clinical laboratory's needs for Hepatitis/HIV diagnostic and management testing.

To find out more about ADVIA™ Centaur™ and how it can optimise productivity in Microbiology laboratories, readers are invited to contact Alistair Gammie on 01635 566242 or to request further information click here .


ADVIA and Centaur are trade marks of Bayer Corporation, USA

NOTE: This item is from our 'historic' database and may contain information which is not up to date.